Free Webinar with Pam Damour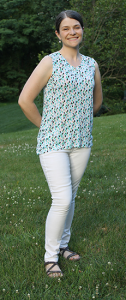 The Rio Tank, Tunic and Dress
Tuesday, July 20 7pm EST
Beat the summer heat with this tank/tunic/dress from a variety of knit fabrics. Pattie will show how to keep cool using bamboo and rayon knits and tips for sewing with these lightweight knits.
_______________________________________



Visit our booth at the following locations:
Cincinnati, Ohio
September 16, 17, 18, 2021 Fredericksburg, Virginia
September 30, October 1, 2, 2021 Novi, Michigan
November 11,12,13, 2021
_______________________________________
Hands-on In-Person Classes
at Ellicott Sew-Vac in Ellicott City, MD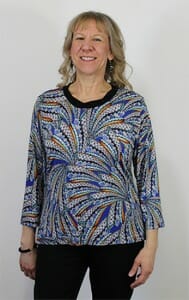 Pattie's very popular
Knits for the Absolutely Terrified
Friday, September 25, 2021
Don't miss this informative presentation as Pattie shares her extensive knowledge of sewing and working with a variety of knit fabrics. Class includes a wide variety of knit garments and techniques to help you get a professional finish every time.
Click here for more info.
Contact Ellicott Sew-Vac at 410-465-6366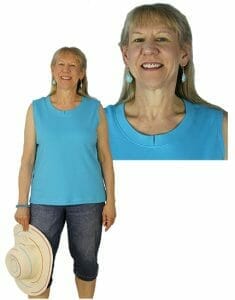 Knits Serger Techniques Hands-on Class
Friday, September 24, 2021
The perfect compliment to the morning class, work with your serger as you explore four techniques specifically designed for knits.
Click Here for more info.
Contact Ellicott Sew-Vac at 410-465-6366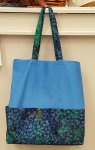 Beginning Sewing
Saturday, Sept 25, 2021
Are you new to sewing or looking for a refresher? Sewing Basics will introduce you to the inspiring world of sewing while you create this versatile Ten Pocket Tote. Class will begin by familiarizing you with the basics of your sewing machine as you learn the mechanics, practice threading, how to wind a bobbin and use seam guides to sew simple seams.
Contact Ellicott Sew-Vac at 410-465-6366
Click here for more information.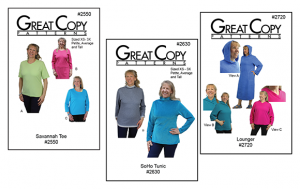 Knit Pullover
Hands-on Class
Friday, October 8th
Enjoy the satisfaction of serging the prefect knit top customized for your figure and style with this hands-on class with Pattie Otto from Great Copy Patterns. With her 40+ years of serging knits, you'll pick up invaluable techniques for creating a knit pullover that will become a wardrobe staple and leave you wanting to create more.
Contact Ellicott Sew-Vac at 410-465-6366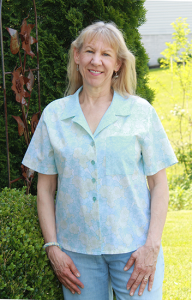 Camp Shirt
Friday, Oct.15, 2021 A relaxed fit camp shirt is a must-have for every wardrobe. The drop shoulder and turn back collar lend themselves to unlimited possibilities, be it a blouse, comfortable short sleeve jacket, swimsuit cover up, etc.
Your instructor is Pattie Otto from Great Coy Patterns. With over 50 years of sewing experience, you can be assured that you are in good hands.
Contact Ellicott Sew-Vac at 410-465-6366