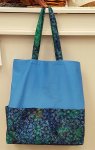 Beginning Sewing
at Ellicott Sew-Vac in Ellicott City MD
Saturday, June 20th
Are you new to sewing or looking for a refresher? Sewing Basics will introduce you to the inspiring world of sewing while you create this versatile Ten Pocket Tote. Class will begin by familiarizing you with the basics of your sewing machine as you learn the mechanics, practice threading, how to wind a bobbin and use seam guides to sew simple seams.
Contact Ellicott Sew-Vac at 410-465-6366
Click here for more information.
Pattie's very popular
Knits for the Absolutely Terrified
Friday, September 25th

Don't miss this informative presentation as Pattie shares her extensive knowledge of sewing and working with a variety of knit fabrics. Class includes a wide variety of knit garments and techniques to help you get a professional finish every time.
Contact Ellicott Sew-Vac at 410-465-6366

Knit Serger Techniques Hands-on Class
Friday, September 25th 
The perfect compliment to the morning class, work with your serger as you explore four techniques specifically designed for knits.
Contact Ellicott Sew-Vac at 410-465-6366