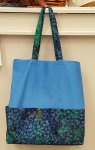 Beginning Sewing
at Ellicott City Sew Vac
Ellicott City MD
Sat, Jan 22, 2022
Learn the basics of sewing while you make this clever and versatile tote.
Click Here for Class Info.
Sedona Skirt, Baja Skirt or Maui Pants Sew-Along
At Stitch n Time
Greencastle PA
Create a unique five-panel Sedona Skirt, the fun Baja Skirt or comfy Maui Pants perfect for lounging.
Click Here for Class Info.
More Coming in 2022.
Private lessons for machine lessons and garment sewing are available. Contact Pattie at info@geatcopy.com.