---
Download Instructions

Note: Downloads are available for seven days from date of purchase. Contact us if you have any questions or trouble downloading. info@greatcopy.com
When placing an order for a download, the download file will appear in your Order Received window.
Click on the download file (1).
A download box will appear.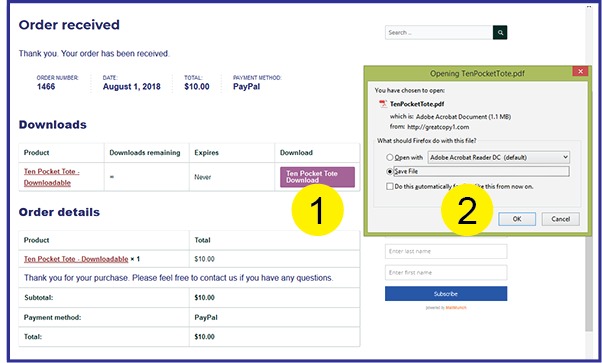 For Patterns and Books: You can open the file in a PDF viewer such as Adobe Acrobat Reader or other PDF viewers OR Save the file. (2) Be sure to note the location of the saved file. Once opened in the PDF viewer, be sure to save them on your computer for future reference. Note: Patterns can be printed on letter or A4 size paper.
For Embroidery: The file will be in a zipped format. Save the file to a location where you keep your embroidery designs and unzip (extract) the files OR open the file in your embroidery software if it reads and unzips designs. Color order and sizes will be included as a PDF file.